Helge Tennø habla en 180360720 sobre la nueva mentalidad que se ha despertado alrededor de las conversaciones en Internet, en las que intervienen las organizaciones, con fines promocionales (no necesariamente comerciales). Hasta el momento, las comunicaciones siempre habían sido en una misma dirección, y sin posibilidad de interaccionar. Así eran las campañas en televisión, radio, prensa, vallas publicitarias e incluso en web, a través de banners o microsites. Pero esta óptica ha evolucionado. El nuevo objetivo es: ayudar a las personas a estar conectadas, a compartir, hablar y a iniciar la conversación.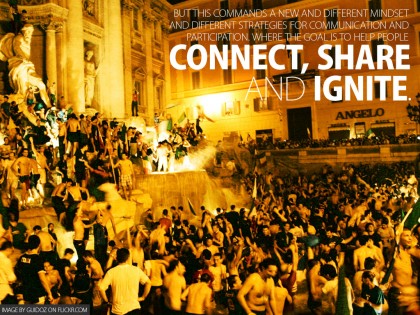 "People don't just want read or watch stuff, they want to be a part of it".

"La gente ya no solo quiere leer o ver cosas; quieren participar".
Los tres pasos de esta nueva estrategia son:
Contenido: Las marcas deben saber generar los contenidos adecuados que a los usuarios realmente les interesa. No es suficiente mencionar las cualidades, o incluso las sensaciones o emociones que puede producir un producto o servicio.
Conversación: En base al contenido creado, debe nacer la conversación entre los usuarios y la marca. Ayudar a conversar es ya un primer paso.
Contagio: Estas conversaciones no tienen que estar excesivamente moderadas. Las marcas tienen que saber escuchar a sus usuarios, aprender de ellos y adaptarse a sus necesidades. No basta con crear contenido viral, que se propaga rápidamente, y de la misma forma cae en el olvido, sino de mantener conversaciones e invilocrar a más personas en esos diálogos multilaterales
Y para terminar, os dejo lo que ellos entienden por "Context":
Context is all about creating a combiant :o) strategy of content/ideas and shareability. First, trying to identify valuable stuff people want to connect to. Then finding the stuff inside these ideas that are important and interesting enough to become social objects, and finally how we can, through a set of collaborative platforms, ignite conversations to help people connect.
Las redes sociales, como Facebook, Twitter o los blogs corporativos ayudan a generar estas conversaciones. Tiene un papel fundamental el Community Manager, que es la persona encargada de proveer el contenido adecuado a las conversaciones, y dar voz personal a una organzación.(La foto es del post original)